Does Anti-Phishing Training Work?
Our research shows that a proactive cybersecurity culture helps increase incident report rates up to 285%
Beauceron Security Helps Organizations Create and Sustain Positive Security Cultures.
Over the past twenty years, security awareness programs have been designed with the intent to share knowledge of key cybersecurity concepts.
Today, cybercriminals have had enough time and resources to perfect social engineering tactics that can trick even the most informed professionals. Statistics show that while people often know what a phishing attack is, they struggle to handle phishing attacks in practice. The problem for security awareness professionals has shifted from building awareness that security matters, to changing long-held individual behaviors and organizational security culture.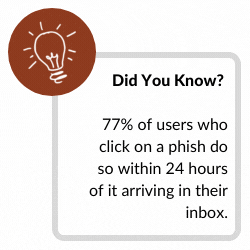 Here's what anti-phishing programs can do for you:
We analyzed our platform's historical data consisting of 4.3 million phishing simulations sent to over 350,000 users across 325 organizations. We found that after a period of training and positive reinforcement, users experienced substantial behavioral change demonstrated by improved click rate, ignore rate, and report rate. Our findings show that fostering a positive cybersecurity culture through anti-phishing programs is an effective way to reduce cyber risk.
Download the full report to see the exact details of our findings, and to learn how you can easily jumpstart cultural change in your organization.
Measurable, Automated, Behavior Change
Your journey to better cyber awareness starts today! You are welcome to visit, call or contact us for more information on our positive approach to reducing cyber risk and learning how your teams can care more about cybersecurity.